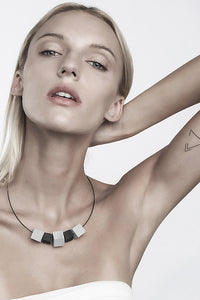 LET'S DIVE INTO THE CITY, URBAN PHILOSOPHER!
Unique, environmentally friendly cement mixture, lava stone and Stainless Steel wire necklace from INSIDE THE CITY collection.  Special technology of concrete process makes jewellery extremely light, non-allergic and strong, but there is a possibility to break. 

Ready to ship in approx 1-2 weeks. Please contact us for more information or your deadline. We'd be happy to do it faster if you need to.
This product does not accept a return, but we offer 20 days for exchanges.
Handcrafted jewellery from premium materials We ship worldwide
Free shipping in Lithuania
Free shipping over 100 € in EU
To offer you a better experience, all orders in Baltic countries are shipped using Omniva.
Every jewellery is wrapped in stylish eco box made in Europe. 
WARNING
There is small scale concrete production made in Lithuania. We warn that there may be slight imperfections. In contact with skin, moisture and air, concrete becomes darker and shiner over time.
TAG US  
#celsius273 
 to be featured